Industry
Professional Services

Less time in meetings
66%

Members
161,000

Campaigns per year
+100
---
American Dental Association
The not-for-profit American Dental Association (ADA) is the nation's largest dental association, representing 161,000 dentist members in all U.S. states, the District of Columbia, Puerto Rico and the Virgin Islands. The premier source of oral health information, the ADA has advocated for the public's health and promoted the art and science of dentistry since 1859.
Today, the Integrated Marketing and Communications division of ADA uses Percolate as their central system for omnichannel planning across their strategic initiatives.
Driving Strategic Focus
Percolate has helped streamline and reduce the number of independent processes. With all tactics filtered through organizational and strategic priorities, ADA can ensure ample time for the best execution possible across channels. With all this visible at a glance in the Marketing Calendar, ADA can plan, create, publish, and maintain a steady drumbeat of relevant content across touchpoints and brand pillars.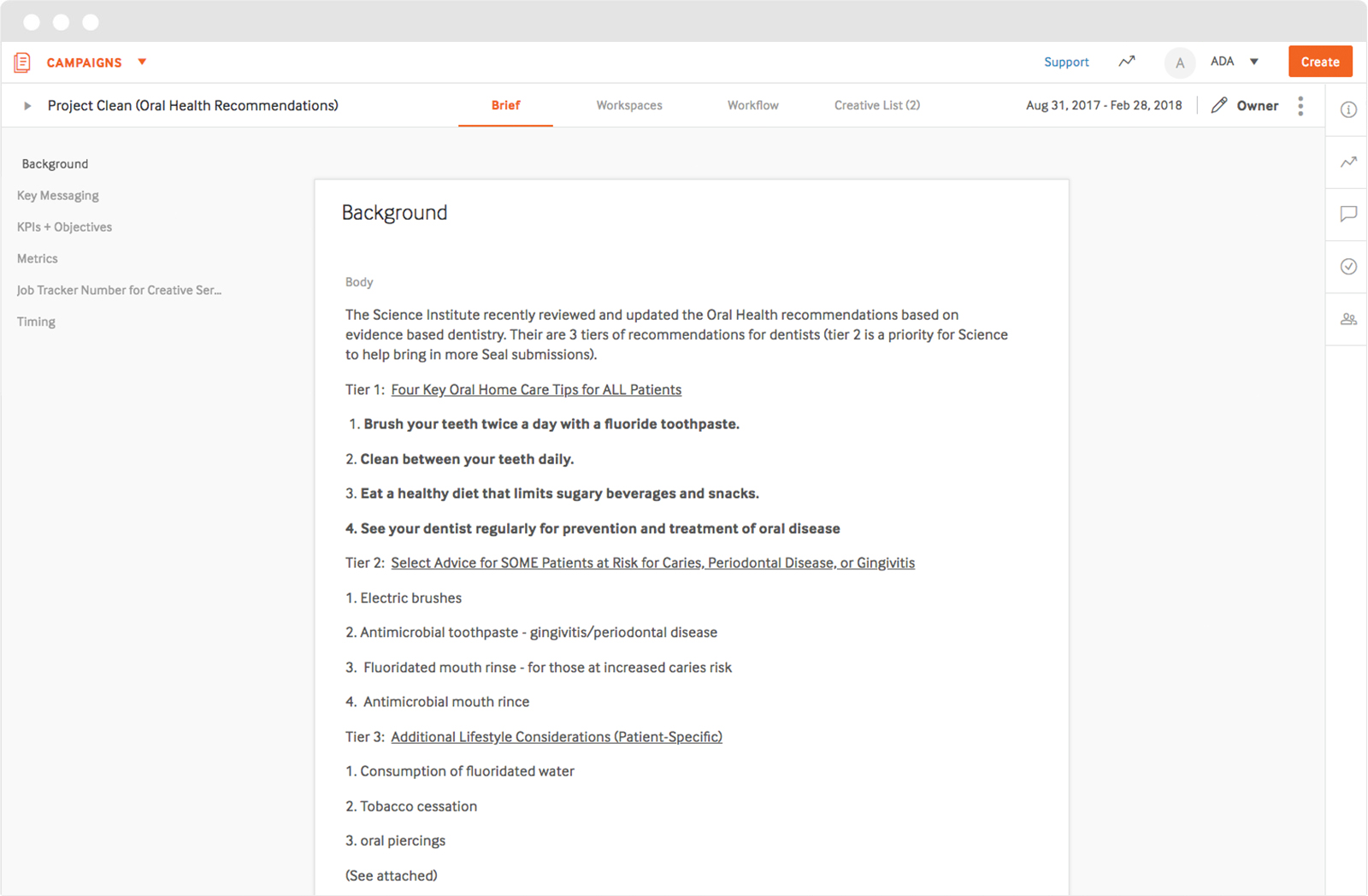 Before Percolate, a lot of our back and forth took place in email. It was easy for things to get lost — or lost in translation. Percolate gives our team a home for content creation, review, and publishing. It's a one-stop shop to see where any project is at any point in time.

Joan Podrazik
Manager, Consumer Content at ADA
Implementing planning best practices
By standardizing their workflow and centralizing marketing planning and collaboration in Percolate, ADA has been able to drive visual and messaging consistency across teams, channels, and initiatives. This consistency is critical in maintaining their position of authority in the industry and driving the value of their membership.
See how Percolate makes better marketing possible for ADA
Learn how your brand can use Percolate Next to improve marketing operations and increase content capacity