Capturing the Suite Life "For Real"
"

Social media has been at the core of who our brand is for the last few years. This was just about elevating that platform."

Arguably one of the best things about traveling is the experiences that become stories to share. Better still, in our hyperconnected world you can share those stories at the click of a button — many tech-savvy travelers "check in" on social media before they check in at the hotel reception. Travel has become a shared experience, whether you're the vacationer Instagramming your poolside bliss, or the friend back home hitting "Like" on the photo. And the best part about this? These are real travel stories, not aspirational advertising that promises you things that "should" happen on vacation.
Simple as that insight might seem, it's surprising that not many hospitality companies have tapped into the real stories their guests have — and are readily willing — to share. That's what makes this hotel chain's advertising a breath of fresh air from the traditional, overly aspirational advertising that doesn't embrace the natural desire to share experiences. These ads show people actually on holiday — doing all the things that should happen on holiday, from the normal to the quirky — swimming, sunbathing, playing the guitar, you name it. The difference? They're real.
Loews Hotels has been in business for over 60 years, but don't dismiss it as an old-school brand just yet — its heritage doesn't stop it from experimenting with new creative methods. When Loews launched #TravelForReal in 2015, it did something boldly different from the advertising that had been unquestioned in the industry for years.
#TravelForReal took social content and used it to build an entire campaign that spanned digital and print. And the "models" for these ads were Loews guests, underpinning the campaign with a distinctly human element. Guests shared Instagram photography from their stay at Loews properties and had them featured in the ads alongside Loews' brand logo and the campaign hashtag. The ads gave the brand an authenticity that it wasn't possible to get out of traditional visuals — these were real guests, encouraging others, like them, to go on vacation at a Loews hotel. With this unique campaign, Loews took travel from aspirational to accessible: "if that guy could do it, so can you" was the implicit message behind photos of everyday people playing the guitar, tanning on the beach, and enjoying a vacation with their kids.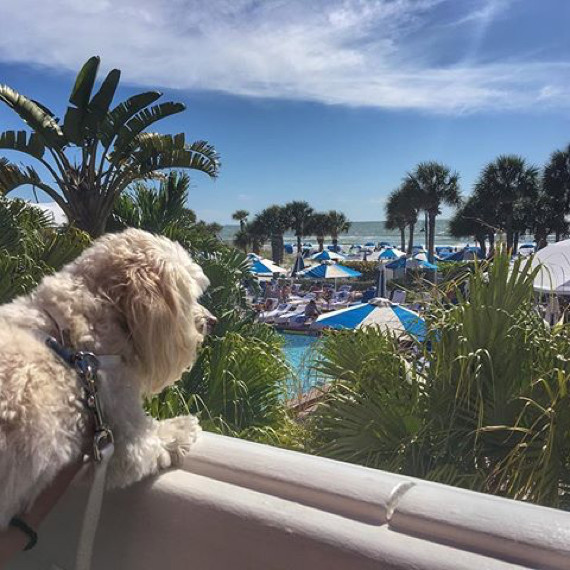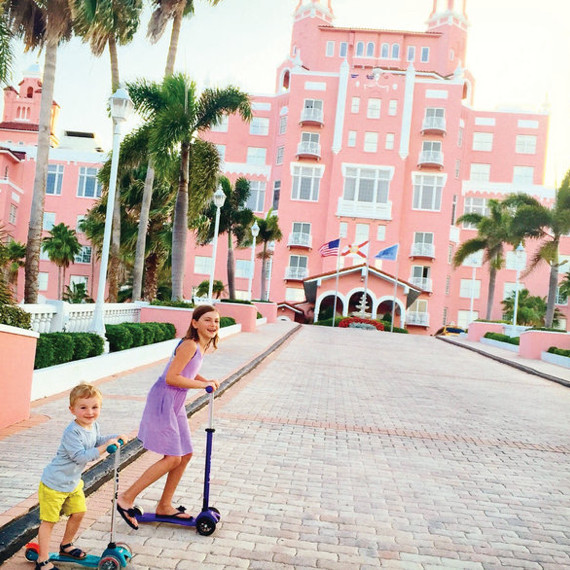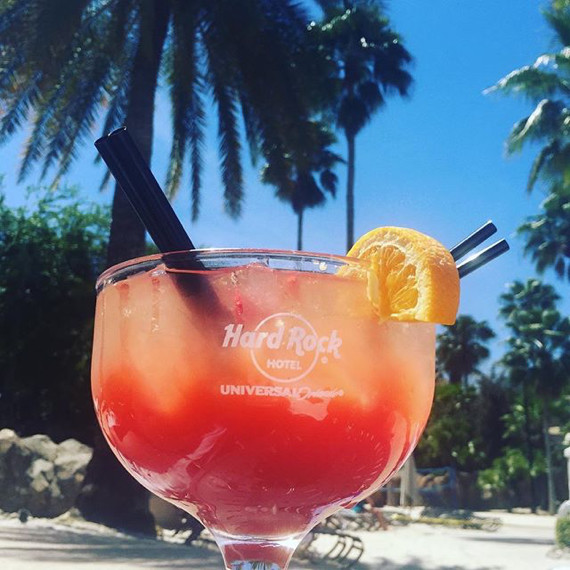 The brainchild for the campaign came about when Loews saw that its guests were actively sharing their holiday photos on social media during and after their trip. They saw a lot of Loews guests mentioning or hashtagging Loews in their Instagram photos, and noticed a high amount of engagement when they re-posted these guest-generated images. Getting the photos involved close social monitoring — a mammoth effort that culled photos from 38,000 images. "It was a huge search to find the right images for each communication, and many people were involved when it came to pinpointing the perfect guest photo for an hotel ad or a brand ad.", says Piper Stevens, Loews' senior director of Brand Loyalty and Marketing Communications. After tagging the images, Loews curated them into a microsite that encourages guests to share their images under an apt slogan: "Because Nobody Tells Our Story Better Than You."
And it's no surprise that Loews' guests are itching to tell these stories and share their vacation moments on social media. Relatively smaller than its peers, Loews has 24 hotels across the country, each with a distinctive look and feel that corresponds to its destination. Loews' marketing is attuned to how their customer is changing, too — addressing a marketing challenge for the hospitality industry, striving to stay relevant as customers and their purpose for travel changes. And today, a lot of relevance for brands is tied to authenticity; if your customers view you as authentic, whether that's through your messaging, your content, and your images, your value as a brand has increased.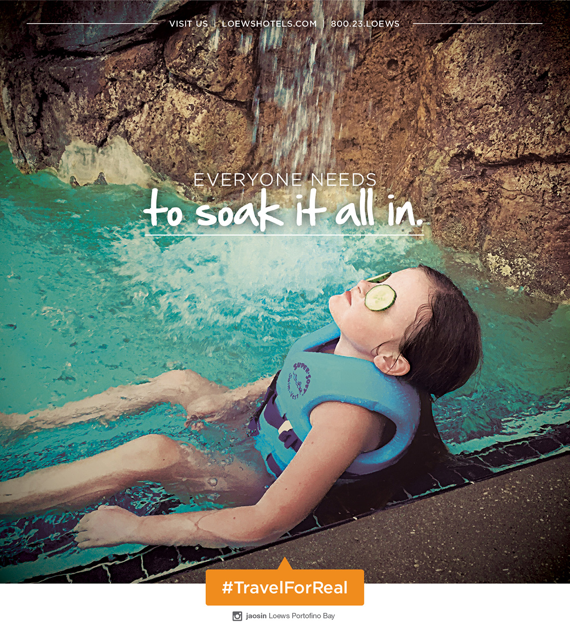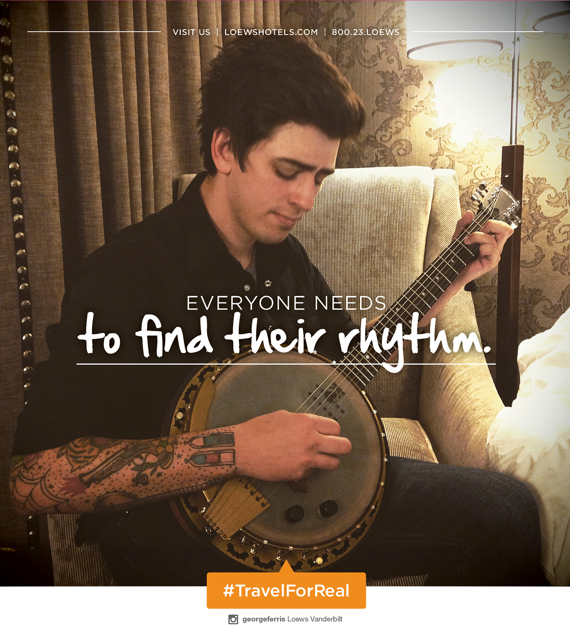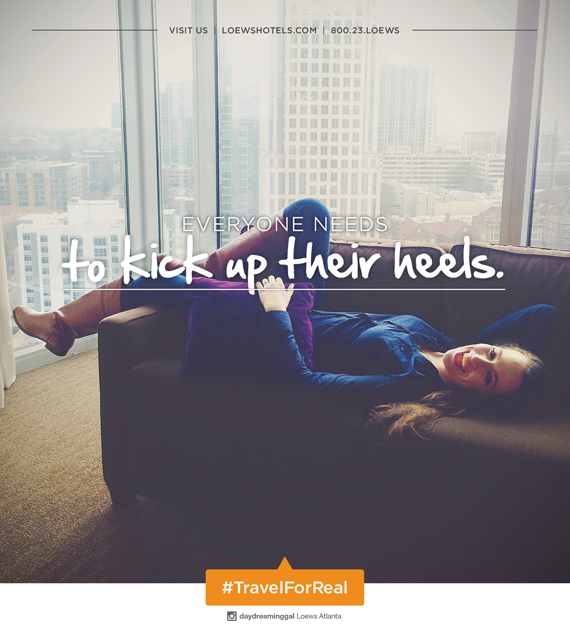 Getting executive buy-in wasn't a challenge because social media has been at the core of Loews' brand for the last few years. After all, this was the first hospitality brand to take reservations on Twitter. In 2013, Loews launched the hashtag #BookLoews, letting people express interest in a room and then connecting them with a Loews travel planner. The traction that #BookLoews and #TravelForReal got reflects Loews' enviable position as a brand whose customers are readily — and positively — engaging with it on social. The Loews guest has, historically, been open to interacting with the brand on social.
If done right, authentic advertising has ripple effects across perceptions of brand trustworthiness and consistency. "To be a successful brand in this day and age it's really important to have an authentic presence on all [of your] communications — so whether it's social or anywhere else, we've included these images," Stevens says of Loews' approach to authenticity.
If Loews has made one thing abundantly clear with #TravelForReal, it's this — its customers are at the center of its universe, and the brand is letting them rightfully have a say in its messaging. M.